Depression, anxiety and a positive attitude may impact knee replacement outcomes
In the research below, doctors discuss the problem of patients who expect a poor outcome to their knee replacement and how this pre-disposes them to pain after the knee replacement. Why would someone expect a poor outcome after knee replacement? One possible answer is that the person had a lot of pain for many years, nothing has helped them, and, they have reached a point where they do not believe anything can help them. For some, this can be called pain catastrophizing.
In this April 2022 study (1) doctors write: "Preoperative emotional states and treatment expectations are significant predictors of postoperative pain. The relationship between emotional states and postoperative pain is mediated by negative treatment expectations. Therefore, innovative treatment strategies to reduce postoperative pain should focus on eliminating negative treatment expectation through establishing a differentiated preoperative expectation management program that also focuses on emotional states."
A June 2022 study (2) Pain catastrophizing is a maladaptive cognitive strategy that is associated with increased emotional responses and poor pain outcomes. Total knee replacement procedures are on the rise and 20% of those who have the procedure go on to have ongoing pain. Pain catastrophizing complicates this pain and management of this is important for recovery from surgery and prevention of chronic pain. Pain catastrophizing  is a modifiable characteristic. Several interventions show modest benefit, however more research is needed to aid in clinical decision-making for this population. Interventions are most likely to produce benefits when they are targeted to people with high levels of Pain catastrophizing.
An answer may be found in a May 2022 paper (3) which examined previously published research on patient reported outcomes following less than hoped for knee replacement success.
What the researchers found were recurring themes among patients. These themes stressed that the recovery following knee replacement was not as easy as the patents thought it would be. Many patients were on painkillers and this gave them concerns including the "perceived stigma." In the need to take them. The fact that many patients described the recovery as a "need to endure" and that their concerns were dismissed and practical support was missing from their doctors.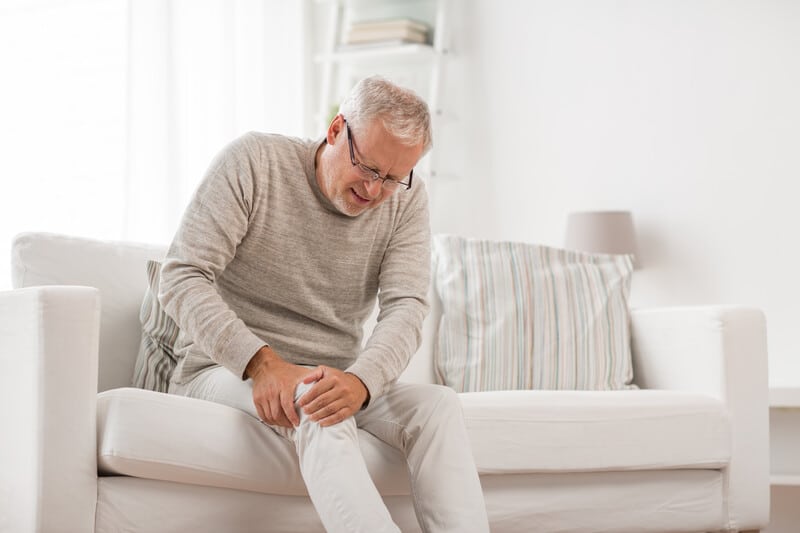 A June 2022 paper (4) notes that "Prior research has suggested that self-efficacy, positive affect, vigor, and vitality may function as resilience factors in the face of chronic pain." In this paper, the researchers examined these resilience factors in a prospective, cognitive-affective-behavioral pathway to recovery. In this study 110 patients undergoing unilateral, total knee replacement surgery completed self-report assessments of study variables.
Self-efficacy was assessed 2 one-half weeks prior to surgery, positive affect the day after surgery, vitality and vigor one-month following surgery, and post-operative pain at one- and three-months following surgery.
Analysis revealed significant coefficients from pre-operative self-efficacy to positive affect during hospitalization, as well as to vitality and vigor at one-month following surgery.
It doesn't feel like my knee
Heaviness, numbness, pressure, and tightness associated with the prosthesis
A June 2022 study (5) suggests up to 20% of people who undergo total knee replacement surgery have ongoing pain and discomfort. The aim of this study then was to understand concepts of pain and discomfort patients felt and suffered from after total knee replacement.
Two main themes were identified: 1) when describing chronic postsurgical pain, some participants also described sensations of discomfort, including heaviness, numbness, pressure, and tightness associated with the prosthesis; 2) participants reported a lack of felt connection with and control over their replaced knee, often describing it as alien or other, and lacked confidence in the knee.
The researchers of this study concluded that "rehabilitation (following surgery) must focus not only on strengthening the joint and promoting full recovery to tasks but on modifying a person's relationship to the new joint and managing sensations of otherness to achieve full incorporation of the joint or re-embodiment."
Why some patients need to continue opioids six months after knee or hip replacement
A December 2022 (6) paper examined factors that could predict which patients would need continued opioid use 6 months after total joint replacement. What they found was patients who had these histories were at higher risk:
Patients who took preoperative opioids use, increased pain, elevated preoperative Pain Catastrophizing Scale scores, lower Physical Function scores, and participants undergoing total knee replacement, compared to total hip replacement, were found to be significantly associated with continued postoperative opioid use up to 6 months.
In a retrospective analysis of 10,140 consecutive patients (7) undergoing primary total hip replacement postponed total joint replacement revealed a higher 90-day revision rate, surgical complications, internal complications and transfusion rate than on-time total joint replacement. Delay in elective primary total joint replacement correlates with higher revision and complication rates.
Related articles:
Knee replacement outcomes and complications in patients in their 80s and 90s
---
1 Suhlreyer J, Klinger R. The Influence of Preoperative Mood and Treatment Expectations on Early Postsurgical Acute Pain After a Total Knee Replacement. Frontiers in Psychiatry. 2022;13.
2 Patel RM, Anderson BL, Bartholomew JB. Interventions to Manage Pain Catastrophizing Following Total Knee Replacement: A Systematic Review. Journal of Pain Research. 2022;15:1679.
3 Taylor CE, Murray CM, Stanton TR. Patient perspectives of pain and function after knee replacement: a systematic review and meta-synthesis of qualitative studies. Pain reports. 2022 May;7(3).
4 Cremeans-Smith JK, Greene K, Delahanty DL. Resilience and recovery from total knee arthroplasty (TKA): a pathway for optimizing patient outcomes. Journal of Behavioral Medicine. 2022 Feb 13:1-9.
5 Moore A, Eccleston C, Gooberman‐Hill R. "It's Not My Knee": Understanding Ongoing Pain and Discomfort After Total Knee Replacement Through Re‐Embodiment. Arthritis care & research. 2022 Jun;74(6):975-81.
6 Zhang JC, Zhang LS, Zhou H, Chen W, Hu ZH, Chen XY, Feng S. Stress distribution patterns during the gait cycle in patients with anterior femoral notching following total knee replacement. BMC Musculoskelet Disord. 2022 Jul 28;23(1):718. doi: 10.1186/s12891-022-05643-9. PMID: 35902856; PMCID: PMC9330681.
7 Giordano NA, Highland KB, Nghiem V, Scott-Richardson M, Kent M. Predictors of continued opioid use 6 months after total joint arthroplasty: a multi-site study. Archives of Orthopaedic and Trauma Surgery. 2022 Dec;142(12):4033-9.
---
5 Cole S, Kolovos S, Soni A, Delmestri A, Sanchez-Santos MT, Judge A, Arden NK, Beswick AD, Wylde V, Gooberman-Hill R, Pinedo-Villanueva R. Progression of chronic pain and associated health-related quality of life and healthcare resource use over 5 years after total knee replacement: evidence from a cohort study. BMJ open. 2022 Apr 1;12(4):e058044.
8 Holzapfel DE, Meyer M, Thieme M, Pagano S, von Kunow F, Weber M. Delay of total joint replacement is associated with a higher 90-day revision rate and increased postoperative complications. Archives of Orthopaedic and Trauma Surgery. 2022 Nov 4:1-8.
1141