Many people that we see  in our examination rooms have had a meniscus surgery. They are seeking our help in relieving the knee pain that they continue to have following the surgery. For some the pain started immediately after surgery, for others the pain became progressively worse and as the months and years went by significant pain set in. How did this happen?
For many people, it happened because they had a belief that the surgery will help them. Typically, someone who considers surgery and decides to have the meniscus procedure, do so because they believe that the meniscus surgery is the best route for them to go and their doctors have demonstrated that the meniscus surgery will or should help them. Indeed, for many people, they have a successful surgery and successful recovery.  At least in the short-term. For many people I see, they did have initial success but eventually the knee pain returned. For others, knee pain and functional loss was almost immediately after the surgery.
MRI has a hard time seeing the causes of knee pain following a meniscus surgery
A November 2022 paper (9) writes: "Surgery to treat a torn meniscus is a common orthopedic procedure, and radiologists are frequently asked to image patients with new or recurrent knee pain after meniscus surgery. However, surgery alters the MR imaging appearance of the meniscus, making the diagnosis of recurrent tear a diagnostic challenge." The paper goes onto explain how radiologists may over come these problems by looking for new damage or changing over to magnetic resonance arthrography (MRA).
Too much meniscus removed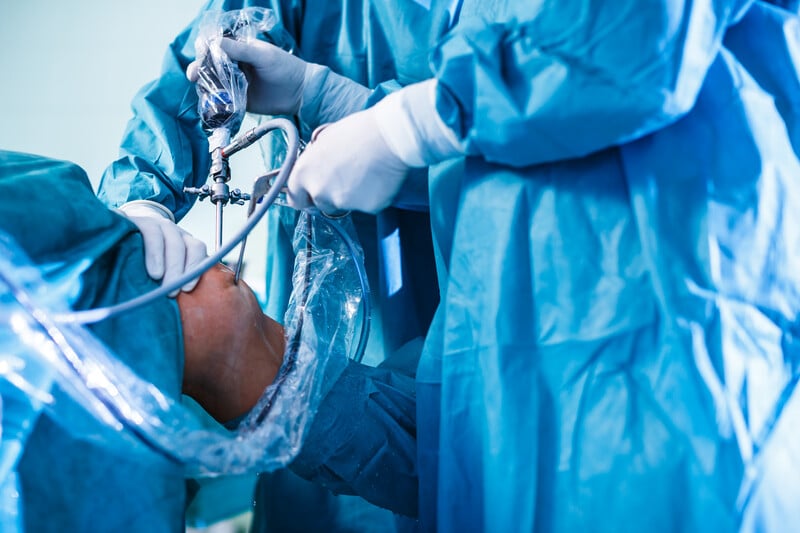 Surgery comes with risks. General risks include infection, nerve damage, reaction to anesthesia. Sometimes there is a risk that the surgery can cause further damage and pain. How? Too much meniscus is removed.
People have knee pain after meniscus surgery because some of them had too much meniscus removed. The meniscus is a pad. It acts as a shock absorber to prevent the bottom of the thigh bone from crashing into the top of the shin bone. People are "bone on bone" because the meniscus is "gone" and the articular cartilage that covers the bones has also worn away.
This problem is described in a September 2021 paper presented in the Sports medicine and arthroscopy review.(1)
"The meniscus has an important role in stabilizing the knee joint and protecting the articular cartilage from shear forces. Meniscus tears are common injuries and can disrupt these protective properties, leading to an increased risk of articular cartilage damage and eventual osteoarthritis. Certain tear patterns are often treated with arthroscopic partial meniscectomy, which can effectively relieve symptoms. However, removal of meniscal tissue can also diminish the ability of the meniscus to dissipate hoop stresses (weight bearing pressure on the outside of the meniscus), resulting in altered biomechanics of the knee joint including increased contact pressures."
"Altered biomechanics of the knee joint including increased contact pressures" describes a situation of accelerated knee osteoarthritis.  This can be where the more pain after surgery is coming from. What may occur is that the surgery removed a portion of the meniscus to alleviate the patients pain. In doing so, the surgery made the meniscus smaller in size and compromised and weakened  the meniscus' ability to provide the needed cushion Nature designed it for.
Narrowing of knee joint space
A June 2022 paper (8) wrote that while arthroscopic partial meniscectomy is a widely performed and remains an important therapeutic option for patients with a meniscal tear, it is however debated whether or not arthroscopic partial meniscectomy accelerates the progression of osteoarthritis  in the long term.
In this study, patients who underwent arthroscopic partial meniscectomy with at least 12 months of follow up and without previous knee surgery were assessed for outcome reults. Those with a meniscal tear who did not have arthroscopic partial meniscectomy (144 patients) and those without a tear (144 patients) were matched to similar patients who had arthroscopic partial meniscectomy

In the first postoperative year, arthroscopic partial meniscectomy results in a faster rate of joint space narrowing compared with knees undergoing nonsurgical management of meniscal tears.  Arthroscopic partial meniscectomy results in a persistent decrease in joint space width over at least 72 months.
Another surgery to confirm that the first meniscus surgery failed
For the person who continues to suffer from knee pain after meniscus surgery, a failed meniscus repair may be seen within days, weeks or months. Their doctors may wait a few months to allow the surgery to heal before diagnosing a failed surgery. At this point you and your doctor will need to map out a plan to fix the surgery. Initially you may be prescribed a more conservative care option to include knee braces, reduced activity or strain on your knee, physical therapy and anti-inflammatory medication. In many cases your doctor will then recommend a second surgery to go inside your knee to see what is going on. In this second surgery the surgeon may look for a re-tear of the repaired meniscus area, a new tear caused by a change in your knee dynamics after the surgery, or "if something was missed" in the first surgery.
In this second or revision surgery, the treatment goal remains the same as the first surgery. Treat that part of the meniscus that is causing pain. Either repair it or remove it. But what if too much meniscus was removed? There is not much a revision surgery can do to repair that. Meniscus transplant or eventual knee preplacement may be given the patient as their only treatment options.
An April 2022 study (6) assessed the outcomes and failure rates for revision meniscus repairs in patients with re-tears after primary repair failure. The researchers found four comparative studies with 79 patients (53 males, 26 females) with a mean age of 24 years treated with a revision meniscus repair were included in the final analysis. Within this analysis, the researchers found a failure rate of 25.3% (20 of 79 patients).
Of these failed repairs, 30.95% (13 of 42) were of the medial meniscus, and 18.9% (7 of 37) were of the lateral meniscus.
Conclusion: This analysis found that revision meniscus repairs in patients with re-tears after primary repair failure result in clinical outcomes similar to that of primary repairs.
Doctors understand that knee pain can be worse after meniscus surgery
In the last decade there have been many papers and studies demonstrating that there is a very real probability that many people will have more pain after knee arthroscopic meniscus surgery. A review of the literature from 2018 (2) demonstrated "meta-analyses of randomized controlled trials have failed to show superior effect of arthroscopic surgery compared with placebo surgery or in addition to exercise for middle-aged and older patients with degenerative meniscal tears. Self-reported mechanical symptoms (i.e., the sensation of catching and/or locking) are typically considered an important indication for surgery. However, a recent study in patients with degenerative meniscal tears found no added benefit of surgery over that of placebo surgery in patients with preoperative mechanical symptoms. Furthermore, the proportion of patients with preoperative mechanical symptoms satisfied with their knee status and reporting improvements at 1 year after arthroscopic surgery is lower compared with those without preoperative mechanical symptoms. In (this paper), (knee) mechanical symptoms only improved to a small extent one year following meniscal surgery. To some extent, this supports the findings from a secondary analysis of an randomized controlled trials demonstrating that meniscal surgery has no added benefit over sham surgery in relieving knee catching or occasional locking."
A July 2021 study (3) examined the effectiveness of arthroscopic partial meniscectomy by reviewing six previously published studies. In all six reviews of randomized controlled trials, arthroscopic partial meniscectomy did not show clinically important benefit over conservative treatment for knee function and pain. 
Meniscus repair surgery success and failure
Most meniscus surgeries do not try to repair the meniscus, instead the surgery removes the meniscus tissue that is damaged. A 2020 study in The archives of bone and joint surgery (4) offers an updated opinion on meniscus repair surgery. Here are some points brought up by the surgeon researchers.
Rehabilitation after meniscal repair is slower and different from rehabilitation after meniscectomy or meniscus removal
"Rehabilitation after meniscal repair is slower and different from rehabilitation after meniscectomy. The physiotherapist and surgeon should respect the slow process of biological healing of the meniscus and therefore they need to be careful with the rehabilitation program especially in active flexion. The return to sport should be delayed for up to 6 months; however, 86 to 91% of patients could back to play. It is also crucial for the patient to know there is 8 to 20% risk of failure and re-operation . . ."
Meniscus repair is not a small surgery without complication.
"Meniscus repair is not a small surgery without complication. It is technically challenging . . . specific complication including nerve injuries, ligamentous injury, iatrogenic (surgery caused) cartilage lesions, and poor suture techniques can happen during meniscal repair. . . "
Failure of meniscal repair occur in up to 25 % of patients
"Failure of meniscal repair occur in up to 25 % of patients. Failures in the first six months of surgery are usually related to technical issues during repair, while failures between 6 and 24 months are indicating poor healing process. Failure later than 2 years of repair show re-tear or degenerative processes in the meniscus. . . Secondary meniscectomy is a treatment for failed meniscal repair. The amount of meniscal resection is less in 35% of cases, which shows partial healing of the meniscus. Revision of meniscal repair is another option and two small series reported 25 to 33% failure rate for the procedure."
The difficulties in diagnosing and treating meniscus root tears.
An April 2022 study (7) wrote: "The role of the meniscus in preserving the biomechanical function of the knee joint has been clearly defined. The hypothesis that meniscus root integrity is a prerequisite for meniscus function is supported by the development of progressive knee osteoarthritis following meniscus root tears treated either non-operatively or with meniscectomy. Consequently, there has been a resurgence of interest in the diagnosis and treatment of meniscus root tears.
Surgeons must have a high index of suspicion in order to diagnose a MRT because of the nonspecific clinical presentation and difficult visualization on imaging. . . Meniscus root repair has demonstrated good outcomes, and acute injuries with intact cartilage should be repaired. Cartilage degeneration, BMI, and malalignment are important considerations when choosing surgical candidates."
Treatments: Meniscus transplant surgery
A meniscus replacement is surgery to replace a damaged or torn meniscus. This is also called meniscal allograft transplantation (MAT). Allograft tissue is a meniscus that comes from a cadaver. The goal of replacing the meniscus with a donor meniscus is to relieve knee pain and improve knee function. The transplant can also be seen as a means to help prevent osteoarthritis.
This surgery is not for everyone. This surgery is more designed for active people or people with demanding lines of work who are under the age of 50. It is also seen as being more successful in patients where osteoarthritis of the knee has not already set in.
In December 2020, an editorial in the medical journal Arthroscopy (5) presented this opinion on the meniscus transplant surgery.
"Meniscal allograft transplantation for symptomatic knees after meniscectomy decreases pain and often improves function, but it does not replicate a normal meniscus. The ability of to delay arthritic changes is an ongoing area of study, and it is known that outcomes and graft survivorship deteriorate with longer follow-up. Recommended indications are symptomatic patients after meniscectomy with mild (or at most moderate) degenerative changes and absence of (or surgically corrected) associated malalignment or ligament deficiency. When these indications are followed, 80% of patients improve, with survivorship of 83% at 10 years and 56.2% at 20 years."
Related articles
Treatments for a torn meniscus. Conservative care, surgery and injections
References:
1 Bedrin MD, Kartalias K, Yow BG, Dickens JF. Degenerative Joint Disease After Meniscectomy. Sports Medicine and Arthroscopy Review. 2021 Sep 4;29(3):e44-50.
2 Skou ST, Pihl K, Nissen N, Jørgensen U, Thorlund JB. Patient-reported symptoms and changes up to 1 year after meniscal surgery: An observational cohort study of 641 adult patients with a meniscal tear. Acta orthopaedica. 2018 May 4;89(3):336-44.
3 Blom AW, Donovan RL, Beswick AD, Whitehouse MR, Kunutsor SK. Common elective orthopaedic procedures and their clinical effectiveness: umbrella review of level 1 evidence. bmj. 2021 Jul 8;374.
4 Razi M, Mortazavi SJ. Save the meniscus, a good strategy to preserve the knee. Archives of Bone and Joint Surgery. 2020 Jan;8(1):1.
5 Carter T. Editorial Commentary: Medial and Lateral Meniscus Allografts Using Bone Plug Fixation in Patients Without Advanced Arthritis Have 80% Positive Outcomes at 10 Years.
6 Jackson GR, Meade J, Yu Z, Young B, Piasecki DP, Fleischli JE, Parisien RL, Trofa DP, Saltzman BM. Outcomes and failure rates after revision meniscal repair: a systematic review and meta-analysis. International Orthopaedics. 2022 Apr 27:1-6.
7 Lee DR, Reinholz AK, Till SE, Lu Y, Camp CL, DeBerardino TM, Stuart MJ, Krych AJ. Current Reviews in Musculoskeletal Medicine: Current Controversies for Treatment of Meniscus Root Tears. Current Reviews in Musculoskeletal Medicine. 2022 Apr 27:1-3.
8 Santana DC, Oak SR, Jin Y, Rothy A, Lee LL, Katz JN, Winalski CS, Duryea J, Jones MH. Increased joint space narrowing after arthroscopic partial meniscectomy: data from the osteoarthritis initiative. The American Journal of Sports Medicine. 2022 May 23:03635465221096790.
9 Malik MA, Baker JC. Postoperative MR Imaging of the Knee Meniscus. Magnetic Resonance Imaging Clinics. 2022 Nov 1;30(4):723-31.